I am SO excited to be collecting donations AGAIN for the Pajama Program which collects NEW PJs and books for children in need. I am *beyond* excited to announce I will be doing my second (of many) donation event for the organization.
Reserve your spot for Sunday, January 6th, 2013, for a complimentary pajama portrait session of your kid(s) in my studio in La Mesa. Children must be in pajamas and may include their favorite blankie, doll, stuffed animal, book etc. I can photograph up to 3 children together, as long as EACH child photographed provides a set of pajamas with tags (or a set of at least 3) new books for donation.**All children must be able to sit up on their own without assistance. Thank you for your understanding**
You can reserve your spot by clicking here. When you go to the site to book, select "pajama session" and then change the month to January 2013 on the next page. Please keep in mind the time slots and nap time. When using the link to reserve your spot, first select the La Mesa location, then on the next page make sure to select the date on the right as "January 6." If you have questions, please contact me!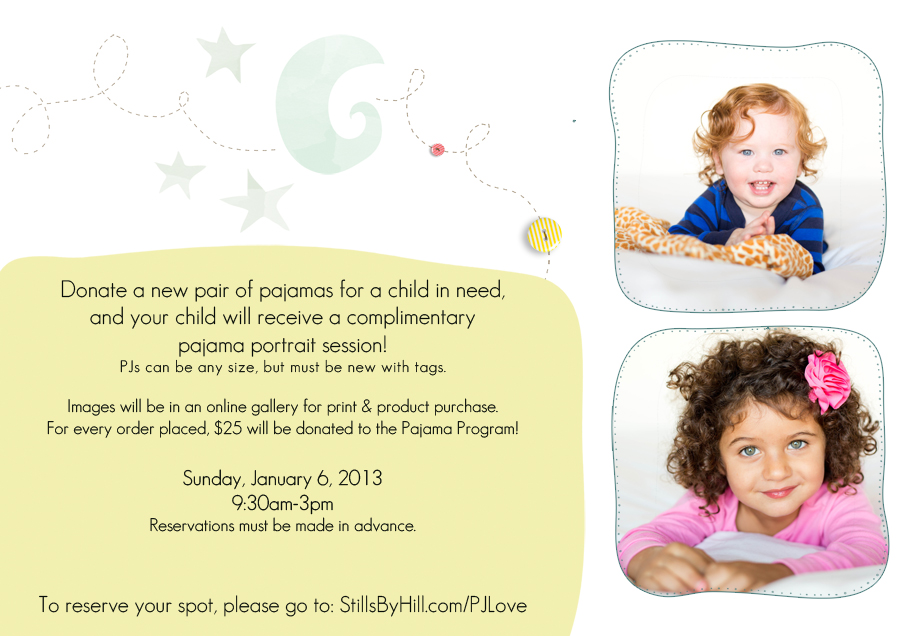 After the session, an online cart will go up where you may purchase prints & products which begin at $35. For every order placed, I will be donating $25 to the organization. As always, images purchased will go online for sharing.
Special print pricing *only* for this event:
Below 8×10: $35
8×10: $45
11×14: $120
Digital files available beginning at $75.
Additional prints & products will be available in the cart including canvas wraps, framed prints & accordion books.
Now hurry up & reserve your spot before it's too late!

Last session I booked up in 2 days!
Remember to watch the video from last years session!