**update 8.14.12- I have a waiting list… please let me know if you are interested on waiting for an opening!**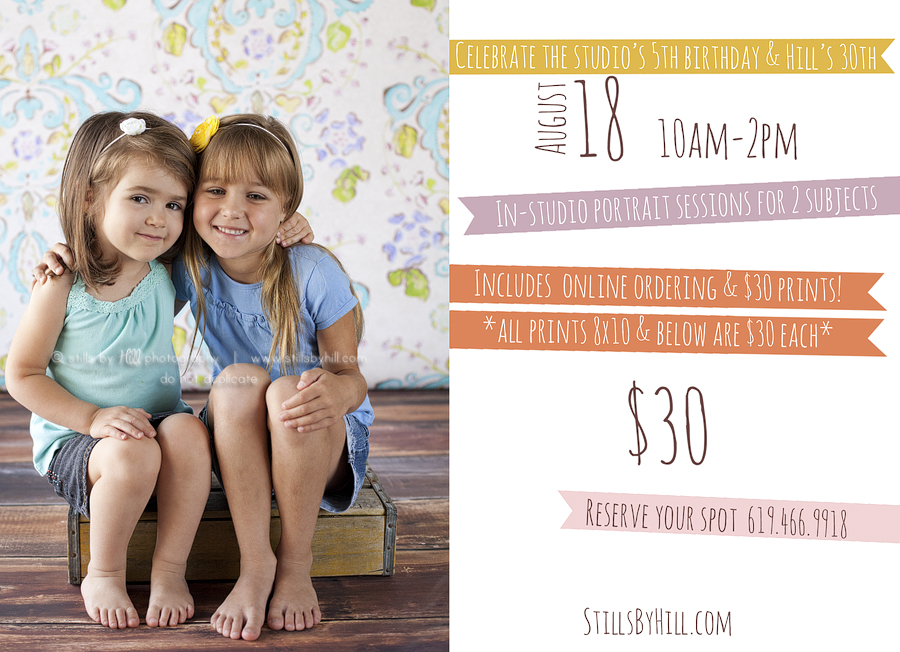 Yes! The tradition continues! I like to celebrate my birthday AND the studio's birthday every year with allowing a fun promo to be done. This is a big one as I am turning the big 3-0 and the studio turns 5! This year, I am holding a mini session in my La Mesa studio (if you didn't know– I moved to a DIFFERENT La Mesa location) on Saturday, August 18 from 10am till 2pm. Sessions include up to two subjects (add additional at $10/ea) and get this– all prints 8×10 and below are just $30 each! Regular pricing for prints above 8×10 apply. Like always, anything you order will go online for you to share on facebook/your blog etc and you will have an online cart for your orders.
Spots always fill up very quickly for these minis, so please make sure to reserve your spot asap! I will confirm your time slot closer and will do my best to get the time as close as possible to your requested time.
If you have any questions, please contact me by emailing hillary at stillsbyhill.com.
**No studio credits/promos/auction certificates/additional discounts available for these sessions**
Remember to hit "like" and share below to share with your friends! Follow my facebook page for updates!